In this article we will review what Drawing Register Templates are out there for you to download and use. Most of these templates are in Microsoft Excel or Microsoft Access, and provide the basics of a Drawing Register.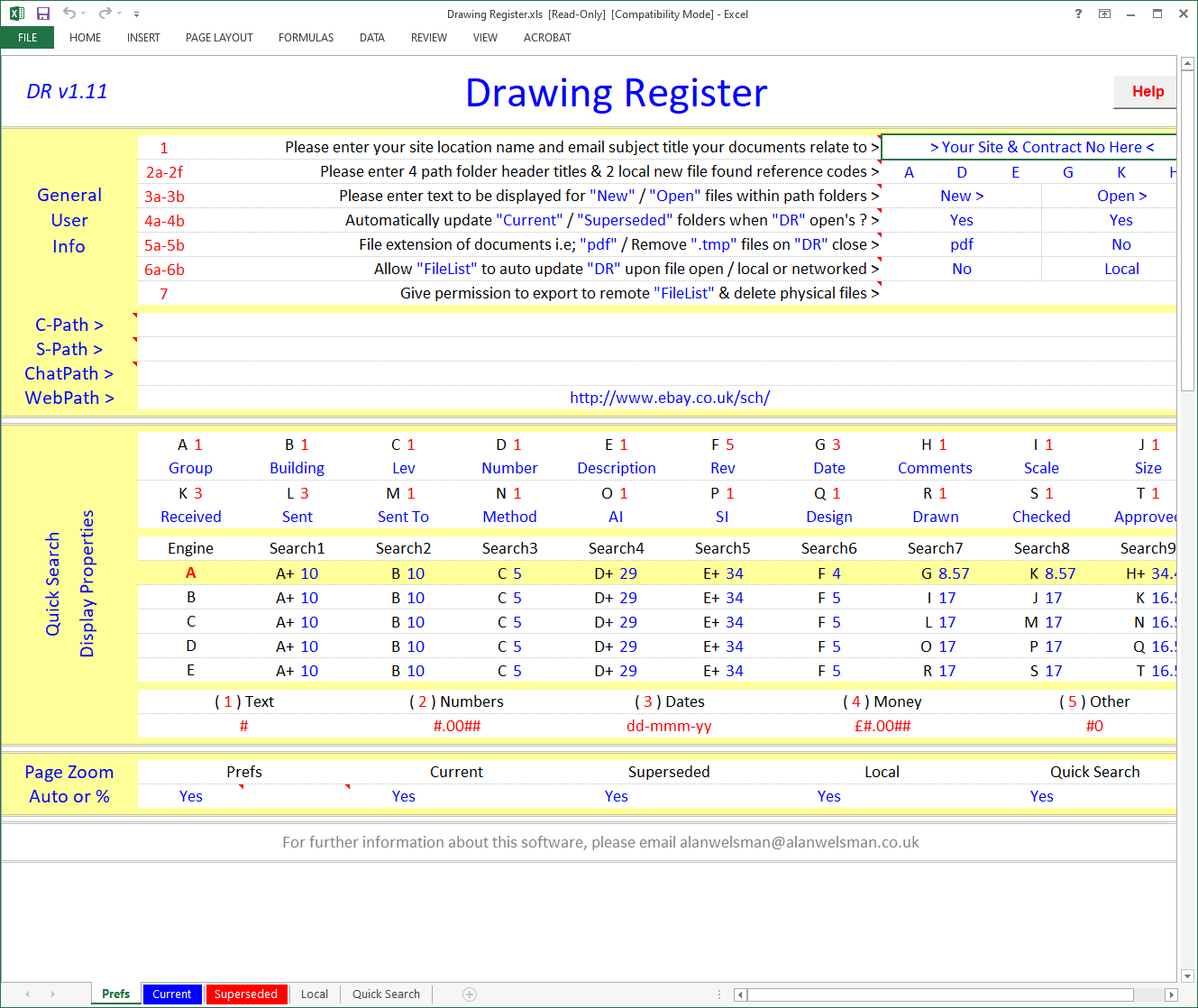 Free Construction Drawing Log Template – This is a basic excel drawing log template for construction jobs. This is a very basic excel sheet, but may be useful for simple projects and is certainty better than nothing. They also have a pro version for USD $5.99, which includes a few more columns and a space for your company logo.
Builder Drawing Register Excel Templates – This product costs AUD $19.95, and appears to be a set of excel templates to manage the distribution of drawings from Australian builders to Architects, Engineers, Sub-contractors, Vendors, Fabricators, Government bodies. A one time payment will allow you to download the excel files.
Drawing Register (Free Excel Template) – This is another simple excel sheet for listing out drawing that are being issued to a person or organisation. It allows you to insert your logo at the top right. Once again this is a very basic Microsoft Excel template, but better than not having a drawing register at all.
Project Administration Spreadsheet – This set of MS-Excel templates includes a Drawing Register and Issue Sheet, a Fabrication Drawing Register and Issue Sheet, a Returned Print Drawing Register and a Service Engineer's Incoming Drawing Register. This is one of the more advanced Microsoft Excel template packs, but it will cost you GBP £20.00 for a single user licence and GBP £80.00 for a company license. The free Lite version does not allow you to customise the company name, and does not include some of the more useful administration sheets. So the free version is not very useful at all.
Microsoft Excel Drawing Register – Alan Welsman has created an MS-Excel based 'database' to manage the administration of drawings. This was specifically written for document controllers to save time on administration tasks. It is slightly more advanced than the other Excel templates listed here. It actually uses Microsoft Visual Basic for Applications (VBA) to provide some smarts to Excel to help you manage your drawings.
Microsoft Access Database Template – This forum provides access to download an Ms-Access Database template for document control and drawing control. As a Microsoft Access Database template it will include a more robust framework than the Excel templates. Access provides the ability to create forms to easily enter data and look for information. From the screenshot we can see a user adding a new document to the register and there are tabs for Documents, Document Types, Document States, Users and report. All of these features could be applied to drawings instead of documents.
DWG Register – Web based design control and drawing register software. Sign up today for a free 30-day trial. Learn More…