We are super excited to let you know about a new feature of DWG Register. Your drawings would usually live in a big list that you can search and sort any way you like, to find the specific drawing or drawings you are looking for. But now you can group your drawings in the register by project or any classification you like!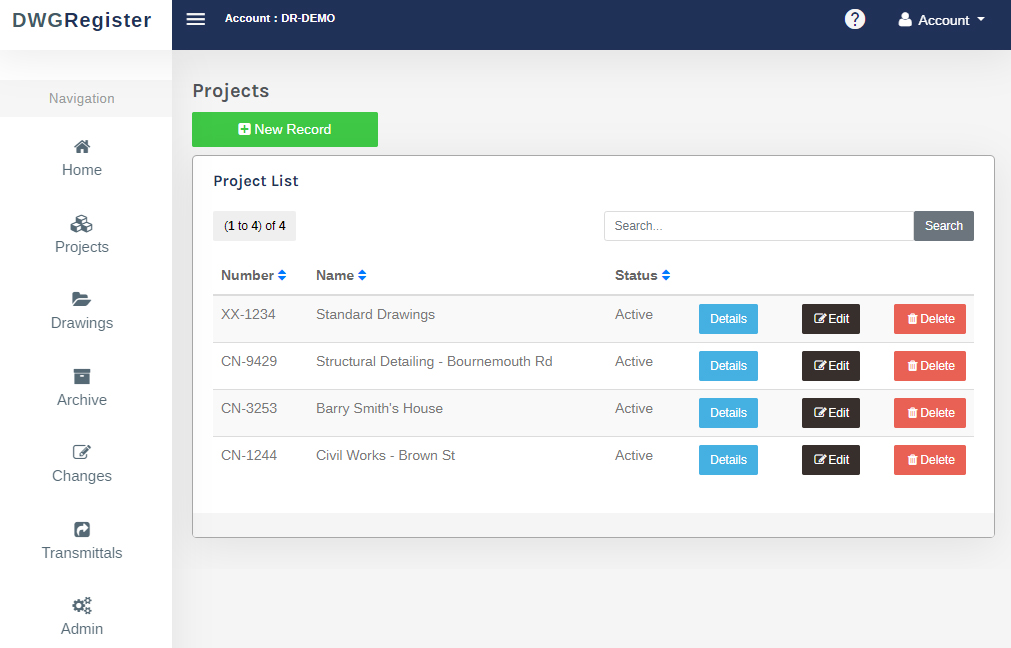 What Can The Projects Area Do?
The projects area can be accessed from the left menu under Home and above Drawings. You can add, edit and delete projects from the list, if you have the right access level. This new feature will be useful to group drawings by architectural project, construction project or by engineering or manufacturing project. When you click on the DETAILS button of a project you will be taken to a Project details screen.
On the project details screen you will see a full list of all the drawings associated with the project. From here you can view the details of each drawing and open the electronic drawing file, if you uploaded one.
At the top of the list of drawings you will notice some buttons. These are to save a list of the drawings in an Excel spreadsheet and download all the drawings in a zip file with or without the status watermarks. This will allow you to manage and distribute drawings internally with ease, if you link all your project drawings to the same project.
How Can I Change The Description to Something Other Than 'Projects'?
The default drawing category description is project. This should suit most organisations. But not every manufacturing, fabrication, construction or engineering company is the same. Therefore, we've given our users the option to change the description to whatever custom text they want.
If you navigate to Admin > Configuration, the last option on that page is 'Category Name'. If you update this your projects area will change to whatever your new description is! Neat huh? Well we think so.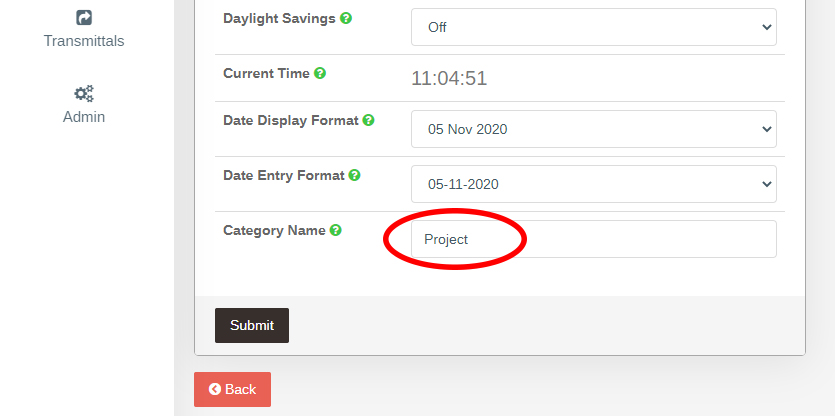 Your new description for your drawings can be anything you like. However you would like to group your drawings is up to you. You might choose discipline, department, customer, client, region, year, drafter, classification, category or anything else at all that makes sense to you. Please note, an 's' will be added to the end of the word to make it plural so you may need to give some thought so it still makes sense to your users.
See the image below, I've changed the description in the demo account from project to smurf! Can you group drawings by smurf? I think we can! This is just to demonstrate you can put whatever text in the box that helps you mange and group your drawings.